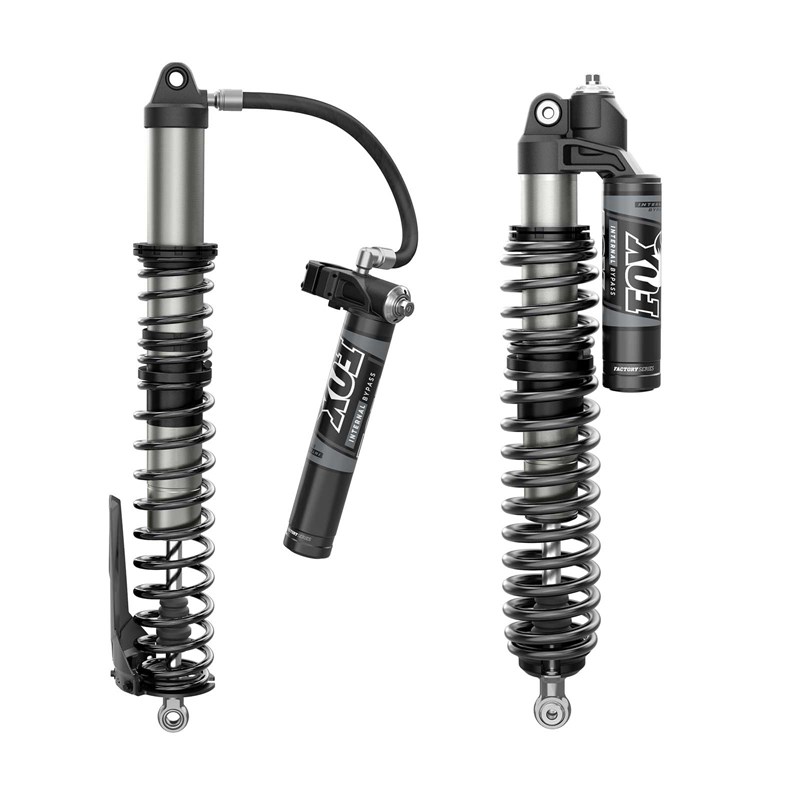 click on image for larger view
Fox† High-Performance 2.5 / 3 Bypass Shock Kit*
Product Description
They say "smooth is fast". That's why we offer a FOX shocks upgrade kit to outfit your X3 with the same high-performance suspension as our flagship Maverick X rs model.
Front piggyback and rear remote reservoir shock upgrade kit, gives you the same suspension performance as X rs models.
Improved ride comfort and vehicle handling.
Internal Bypass Technology offers position-sensitive damping designed to adapt to any terrain and provide extra plush.
High level of adjustments and controls, allowing enthusiasts of all skill levels and driving styles to fine-tune their ride for any terrain or conditions.
Dual Speed Compression (DSC) adjusters.
Wide-range rebound adjustment.
Dual rate springs with adjustable crossover and preload.
Direct replacement bolt-on shocks.
29" tire recommended.
Warning: Any modifications or addition of accessories may affect the handling of your vehicle. It is important to take the time to get familiar with the vehicle once modifications are made to understand how to adapt your driving behavior accordingly. Do not temper with unauthorized modifications or install equipment not specifically certified by BRP for the vehicle. These modifications have not been tested by BRP and they may increase the risk of injury or loss of control, or render the vehicle illegal to ride. Ask your authorized BRP dealer for suitable available accessories for your vehicle.
Compatibility
Maverick X3 (except X rs models)